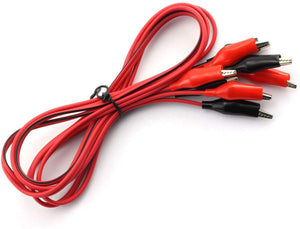 RuiLing 2 Pairs 1m Double-Ended Alligator Clips Electrical DIY Test
Type: Alligator Clip Testing Cord
Connector: Double-Ended Crocodile Clips
Color: Black, Red
Length: 1m
Purpose: Ideal for charging batteries, electronic circuit prototyping or testing.
Double-Ended copper alligator clip fully shrouded insulation sheath, reliable connection, more durable and much safer to use.
Adopting soft plastic cable shell, built-in copper wire cord, flame resistant, good insulation, perfect electrical conductivity.
Electrical test leads suitable for use with multimeters, power supplies and other electronic equipment, frequently used in school physics laboratories to quickly and cheaply assemble circuits.
Package: 2 Pairs Double-Ended Alligator Clip Test Lead (Red + Black)