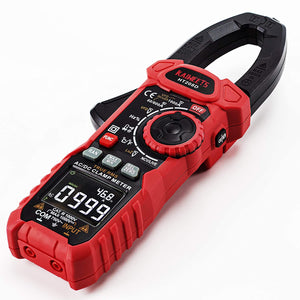 KAIWEETS Inrush Clamp Meter 1000A True RMS AC/DC Current Amp Meter, VFD, LOZ Mode, 6000 Counts, Measures Current Voltage Temperature Capacitance Resistance Diodes Continuity Duty-Cycle
KAIWEETS HT208D True RMS Digital Clamp Meter
KAIWEETS HT208D Clamp Meter can be a perfect choice for car service workshops or other places with difficult environmental conditions. It has basic functions which enable measurement of AC/DC voltage, AC/DC current, resistance, capacitance, frequency, temperature and inrush current.
1000A AC/DC current measurement

Automatic change of the measuring range (autoranging)

True effective value (true RMS) measurement function

Non-Contact Voltage (NCV) – the function of contactless voltage detection

Backlit LCD display and built-in torch

Data Hold function – keeping the last measurement result

Low Impedance (LoZ) mode for identifying and eliminating ghost or stray voltages

CAT IV 600V, CAT III 1000V, Double insulation safety rating.