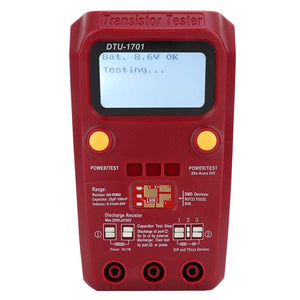 Diode Measurement Tool, Multifunctional Diode Triode MOSFET Output HFE Testing Instrument Measurement Tool Electricians Test Equipment Measurement Tool
Suitable for testing plug-in and SMD devices, also can test different kinds of diodes, triodes, thyristors, MOSFET.

It also can analysis the device type, the polarity of the pin, the output HFE, the valve voltage, the junction capacitance of the FET.

With portable design, anti-drop, anti-skid, and anti-static design, suitable for single hand operating with a comfortable feeling.

It has large clear screen, making it easy to read data from any viewing angle, suitable for different situations.

This tester is a small tool design for engineer, electronic maintenance and factory.
Specification: 
Item Type: Measurement Tool
Material: Plastic 
Resistor: 0Ω-50MΩ Resolution: 0.01Ω
Capacitor: 25pF-100mF Resolution: 1pF
Inductor: 0.01mH-20H Resolution: 0.01mH
Capacitor ESR: 2 Resolution: 0.01Ω μF-50mF
(ESR: Equivalent Series Resistance)