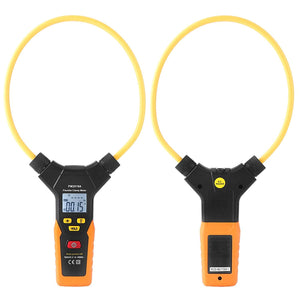 Digital Clamp Meter, Low Battery Indicator AC Flexible Clamp Meter Flexible Clamp Meter for Electrical Equipment Testing and Maintenance for Measure AC Current(PM2019A)
This flexible Clamp meter is a portable handheld professional detector that measures AC current and frequency. Suitable for electrical equipment testing and maintenance.

Features:
Flexible clamp, convenient to use.
It can identify the measured signals and display the result automatically.
LCD display with backlight and flashlight, easy to operate and read.
Data hold function, low battery indication, auto power off.
Perfect for electrical devices testing and maintaining.
Technical Index Range Accuracy PM2019A
(Optional) PM2019S
(Optional) AC Current 30A/300A/3000A ± (3.0%+5) ± (3.0%+5) DC Voltage 6V/60V/600V
± (1.0%+3) AC Voltage 6V/60V/600V
± (1.2%+3) Resistance 6kΩ/60kΩ/600kΩ/6MΩ
± (1.0%+3) Frequency 40Hz 1kHz ± (1.0%+2)
20Hz 1kHz
± (1.0%+2)